Real time control over transport operations via integrated GPS smart tracking!
With Smart Assist 360, you optimize costs, time and customer relationships!

The software gives you visibility and control, in real time, over all transport operations.

Sending automatic notifications to the dispatcher and the customer about delays during transport, it corrects any logistical problem and automatically informs customers about the status of the transport.

You are able to increase productivity and reduce the costs of your own operational team. Moreover, you will save time and streamline your customer's logistics costs.

On request integration with any GPS provider, but also with TMS, VMS or ERP systems!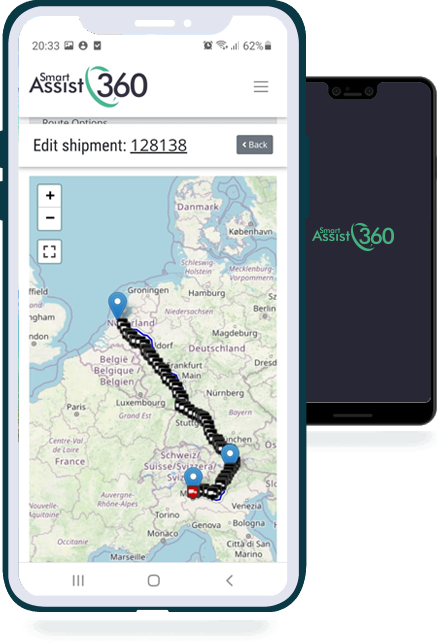 Now you have all the essential information:
you plan smart, proactive and act fast.
Testimonials
Simplicity, user-specific orientation and stability are the main reasons why we chose SmartAssist360 in monitoring our time-critical shipments. - Costin Lungu – IB Cargo
I had shipment with a company from Hungary.
They are using your software I saw that and I liked a constant updates. - Dariusz
It's a great, simple and reliable app which took the place of a nightshift operator. No more position asking from our clients' side. Once the job is uploaded, everything plays automatically. Love it! - RAB Tamas – ATOS Trans SRL
Trying out the Smart Assist 360 was a good opportunity for us to make our day-to-day work easier, making it easier to track vans. Very useful program, it helps us a lot. We also get absolutely positive feedback from our clients, they love to see where their goods are going, when they arrive at the destination. This allows us to provide much better quality service to our clients as well. - Dóri –Tranusnisol
Terms And Conditions
Copyright &copy 2020 - Smart Assist 360